Voici quelques unes de mes réalisations pour des évenements/lieux/personnes ami.e.s… géniales bien-sûr! 🙂 avec les ptits liens qui vont bien pour en savoir plus. J'aime beaucoup dessiner ce genre de défis créatifs donc si vous avez besoin, n'hésitez pas à me contacter!
Hierunter sind ein paar Zeichnungen, die ich für befreundete Veranstaltungen/Orte/Menschen gemacht habe… alle sehr empfehlenswert natürlich! 🙂 mit Links um weiteres zu erfahren. Ich liebe solche Aufträge, also wenn ihr sowas braucht kontaktiert mich gerne!
Here you can see some drawings I've made for events/places/people I like… all wonderful, of course! 🙂 with links to know more if you like. I really love these kind of creative challenges so if you have an idea don't hesitate to contact me!
https://www.alte-vhs.de/
Logo pour la Alte VHS, un centre culturel autogéré à Bonn. 2018.
Logo für die Alte VHS, ein selbstorganisierter Kulturzentrum in Bonn. 2018.
Logo for the Alte VHS, a self-organized cultural center in Bonn. 2018.
https://rhizombonn.wordpress.com/
Un des nombreux motifs dessinés pour la sérigraphie 🙂 Tout a commencé avec le Rhizom…2015?
Ein von vielen Motiven fürs siebdrucken 🙂 Am Anfang war das Rhizom… 2015?
One of many pictures I draw for serigraphy 🙂 At the beginning was Rhizom… 2015?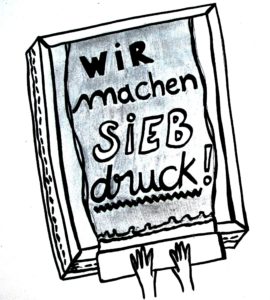 Ci-dessous: Image créée pour le 8 mars – journée internationale des droits des femmes. Sur les thématiques féministes je conseille le podcast de Charlotte Bienaimé, il est génial!!! https://www.arteradio.com/emission/un_podcast_soi
Hierunter: Dieses Bild ist als Siebdruckmotiv für den 8. März, Internationaler Frauen*kampftag, entstanden.
Ein hübsches Bild für eine legendäre Party, in ein mir viel bedeutender Haus! https://romerohausbonn.wordpress.com/